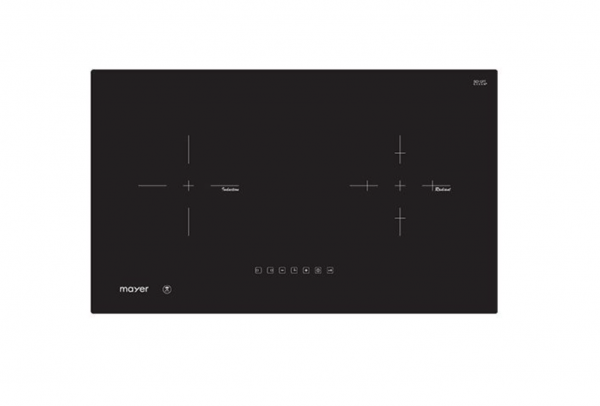 Mayer 75 cm 2 Zone Hybrid Induction Hob MM75IDHB
Mayer's 75CM 2 Zone Hybrid Induction Hob, MM75IDHB, features dual induction and ceramic cooking zones. This hob combines the speed, ease, and safety of induction cooking, with the versatility of ceramic cooking, giving you the best of both worlds! The Boost function in the left induction zone brings you straight to the highest speed. The Auto Cook function in the ceramic zone enables you to set your desired power level and let your dishes to cook at high heat before automatically simmering at low heat.
Can't decide on induction or ceramic zone? MM75IDHB is your pick!
Product featured on: https://www.bestinsingapore.co/best-electric-stoves-singapore/
Benefits of cooking with induction
Easy to Clean: No more scrubbing over splatter or a spill, simply wipe with sponge or a cloth.
Safety: No open flames or risk of gas leakage! The induction surface remains cool to touch since the heat is only created within the induction friendly pan.
Speed: Induction cooking can be quicker since it offers the best pan-food heat transfer with the least heat loss to the surroundings.
Precise Control: Enjoy absolute control for precise cooking at all heat settings.
Energy Efficient: Induction hobs use up to 90% less energy in cooking as compared to types of hobs.
---
Features
Wireless communication – to improve your cooking experience, Mayer's induction hobs will wirelessly connect to a compatible Mayer hood to automatically activate the said hood upon startup. Similarly, when your induction hob is switched off, the connected hood will be automatically switched off.
Sensor touch control
9 level power settings (variable)
Boost function for left zone
Automatic pan recognition system – the cooking zone detects the pan to use the right amount of energy needed
Control lock
Child safety lock
Power management
Product Description
| | |
| --- | --- |
| Dimensions (L x W x H) | : 750 x 450 x 62 (mm) |
| Cut out size (L x W) | : 655 x 345 (mm) |
| Left zone power | : 2.0 kW |
| Right EGO Radiant zone power | : 2.0 kW |
| Centre zone | : 1.0 kW |
| Total power | : 2.85 kW |
| Plug | : 13 Amp |
---
Installation Diagram:
Product Features
| | |
| --- | --- |
| Dimensions (L x W x H) | 750 x 450 x 62 (mm) |
| Cut out size (L x W) | 655 x 345 (mm) |
| Category | hob & hood |